The main camp area is surrounded by 395 acres of forest proving a quiet retreat setting. We have miles of well maintained trails from which you can access the Laurel Highlands Trail. Also on our property is one of the few remaining pristine sections of the Old Forbes Road.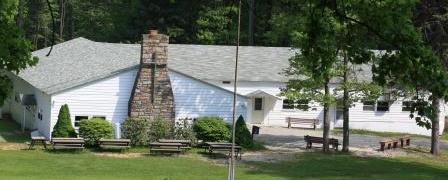 The Dining Hall is at the center of Main Camp. It is equipped with wireless internet and can seat 200 people comfortably. Around the Dining Hall, bunkhouse style cabins (six stone, eight wood frame, one log) provide a variety of lodging options to accommodate small families to up to 180 participants.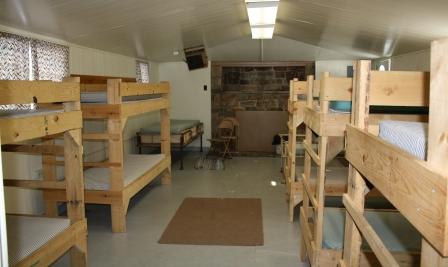 Rustic Cabins: Seven year-round cabins and eight three-season cabins sleep 12 people in bunk beds. Each cabin has two baths with showers. Smaller groups have use of Faculty Lodge at no extra charge for meeting and cooking. Groups over 30 may use the dining hall at no additional charge when heat is not required. A fee of $50 per day will be charged for groups using the dining hall kitchen when no meal service is provided.
Cabin Rates: $20 per person per night ($17 without heat). Minimum cabin charge is $100 per night.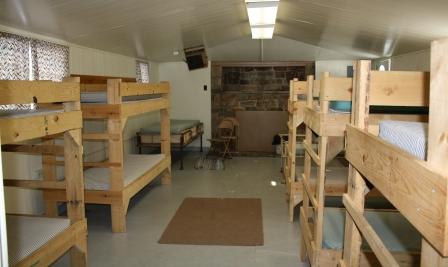 Director's Cabin: Year-round facility. Sleeps six in two bedrooms: 1 queen bed; 1 double and 2 single bunks. Includes fully furnished living room with fireplace, kitchen and bath. Linens included. Cabin Rate: $80 for 2 persons per night. $10 per night for each additional person.
Shelter and Tent Camping: Seasonal primitive facility. Two lean-to shelters sleep 6 - 8 per shelter. Includes a fire ring, picnic tables, and tent sites. Camping rates: $10 per shelter or tent site.
Dining: Meal Service is available. (There is a 13 person minimum fee per meal.) Kid friendly and special banquet meals can be arranged in advance. Coffee and hot water are provide throughout the day when meal service is requested.
| Meal | Fee |
| --- | --- |
| Breakfast | $7 |
| Lunch | $9 |
| Dinner | $11 |
Activities and recreation areas include campfire areas, sports fields, sand volleyball, basketball, four-square, sled riding hills, XC skiing, and hiking (see our Camp Map). Challenge course and climbing tower available if booked in advance for an additional fee. See Team Building for details and prices.
Water activities include swimming at the outdoor pool with lifeguard supervision at $50/hour and canoe and kayak rental on the reservoir with lifeguard supervision at $50/hour. Must be booked in advance. Only available in season.